DevSecOps Model
Organisations need to understand how to wrap security into the existing DevOps models they have created, with a goal to improve the speed and security of software delivery.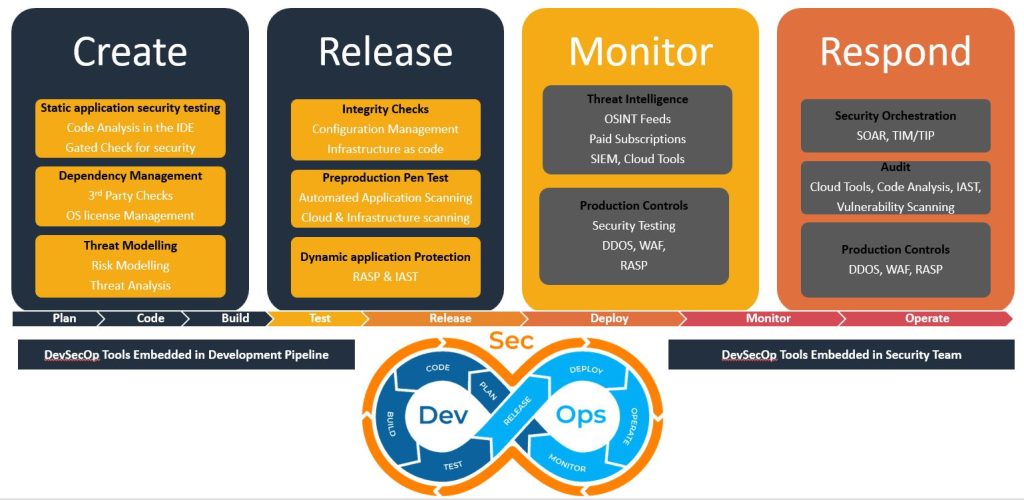 Contact us
DevSecOps Strategy Service
Our DevSecOps Strategy Service is designed to streamline your software development process by integrating security and compliance throughout the entire pipeline. We provide a comprehensive, tailored approach to ensure that your organisation's applications are secure, compliant, and delivered at an optimal speed.
DevSecOps Deliverables
DevSecOps Assessment: We evaluate your current development, security, and operations processes to identify gaps and areas for improvement. This includes a thorough analysis of your tools, technologies, and team skills.

Strategy and Roadmap Development: Based on the assessment, we develop a customized DevSecOps strategy and roadmap tailored to your organization's unique needs, objectives, and compliance requirements.

Continuous Integration and Deployment (CI/CD): We assist in the implementation of security tools into CI/CD pipelines, automating testing, and deployment processes to improve efficiency and reduce the risk of security vulnerabilities

Security Tool Integration: We identify and integrate the best security tools into your development pipeline, ensuring that security is embedded at every stage of the software development lifecycle.

Compliance Automation: We help automate compliance checks and monitoring within your DevSecOps pipeline, simplifying the process and reducing the risk of non-compliance.

Ongoing Support and Optimisation: Our team of experts remains available to provide ongoing support and advice, as well as continuously optimize your DevSecOps processes to adapt to evolving threats and technologies.
Discover how our DevSecOps Strategy Service can transform your organisation's software development practices, ensuring security and compliance without compromising on speed and efficiency.
Protect your business with datavator's cutting-edge Cyber Security Automation and DevSecOps solutions. Our expert team will help you stay ahead of evolving threats and keep your sensitive data secure. Don't wait until it's too late – schedule a consultation today and take the first step towards peace of mind.
Find us
12 Adelaide Street, Auckland Central, Auckland 1010